Play: Supporting Mental Health & Stress Relief
by Beth Edwards
In the session, participants will examine why play is important in supporting mental health and wellbeing in young children. We will define play and the benefits of indoor and outdoor play. We will discuss how to support and extend meaningful play, and how to educate parents about the benefits of play.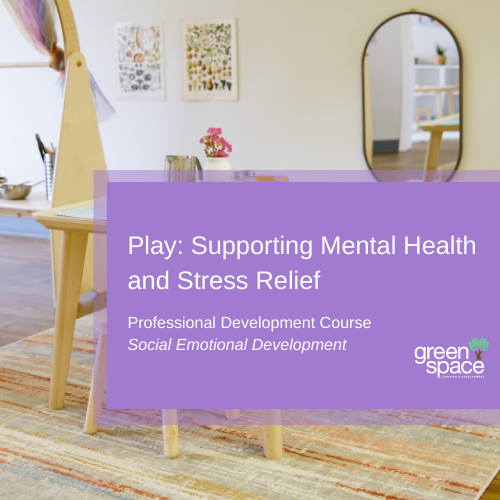 PowerPoint Presentation

Certificate of Completion
Learning Objectives
Define meaningful play
Examine the benefits of indoor and outdoor play in relationship to mental health and well being, including stress reduction and obesity prevention
Discuss and create strategies to support play
Practice talking to parents about play

Course Requirement

This course provides 1.0  hours of professional development for early childhood educators.

Participants are required to view the complete virtual training and complete the quiz. Participants must receive a score of 80% or higher to receive credit for this course. 

Course certificates are emailed upon successful completion of the full training and quiz.
Meet the instructor
Beth Edwards
Bethene (Beth) Edwards has over 30 years of experience in Early Childhood Education. She enjoyed 16 years as a classroom teacher working with children ages 18mos- 6yrs. In 2004 she made the leap into administration leading early childhood programs, mentoring early childhood professionals, and creating interesting, developmentally appropriate classroom and outdoor environments.

During her time as an administrator, she was presented with opportunities to build and launch preschool programs in North Texas and Mason, Ohio. In 2018, Beth joined Green Space Learning full time as a trainer and consultant. In addition, she manages Play Studio by Green Space. Beth is a Texas registered trainer and a Childcare Health Consultant.

Forever a student of Early Childhood Education, Beth is dedicated to sharing experiences and ideas with other ECE professionals. She is passionate about advocating for and preserving high-quality play in childhood. Beth's favorite training topics include creating sensory rich, engaging environments for children, play based learning, EC best practices, nature play, process art, and toddler play schemas.