No Justice in Preschool
by Audrey Rowland MS, MBA
When adults take on the role of law enforcement in the classroom, the quest for fairness often leads to frustration. Learn how to support social risk taking, intervene only when appropriate, and allow for more learning opportunities for children.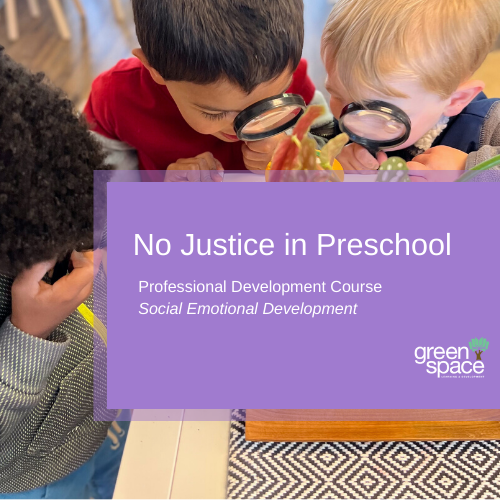 1.5 Hours Video Lecture

Certificate of Completion
Learning Objectives
Identify common classroom challenges and conflicts
Discuss the obstacles to supporting social risk
Develop guidelines for appropriate prevention and intervention

Learn at your pace

The quest for fairness feels impossible in the classroom, and is often endlessly frustrating to us as teachers. Come learn how to support children's conflict resolution skills, find relief in how to not take on the role of problem-solver, and learn when to intervene and when to allow for social risk taking.
Meet the instructor
Audrey Rowland
Audrey Rowland has over 15 years of experience as an early childhood professional. Drawing from her expertise as a teacher and administrator, Audrey creates resources and provides professional development for early educators, administrators, parents, and policy-makers.

Audrey is grounded in theory and practice that emphasizes developmentally appropriate practice and high-quality early education. She provides a number of content areas with a focus on classroom implementation. She is an engaging speaker and trainer, translating information into application and inspiring teachers and professionals.

Audrey earned a MS from the University of North Texas in Child Development and Family Studies and a MBA from Texas Woman's University. Audrey is a Master Trainer with the Texas Early Childhood Professional Development System (#1743)